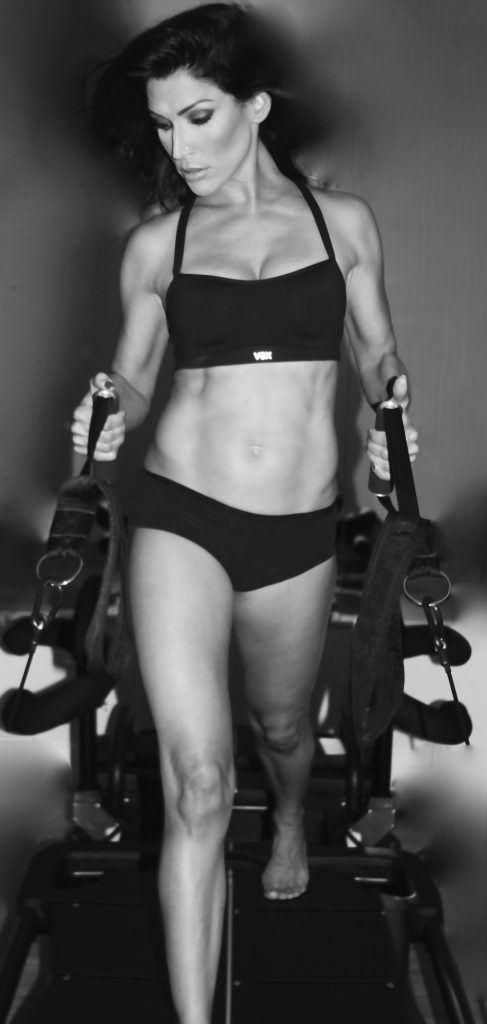 Erica Leonard – Owner/Head Trainer
Before I discovered the Lagree method, my career as a Certified Master Classical Pilates Instructor allowed me to train some of the most inspirational, professional Athletes and Olympic hopefuls all across, North America and Great Britain.
As master trainer, I truly believe in acute body awareness and a deep mind-body spiritual connection grants us the ability to tap into our bodies' restorative potential. The Lagree method has enhanced my belief. The machines we use at Core954 enable us to train our bodies, and minds, in such a way I have never been able to achieve with any other method.
I strive to ensure all my students, at any level, will achieve their personal goals whether it is injury prevention, core stabilization, weight loss, pre & postnatal strengthening, rehabilitation, or simply increasing athletic performance.  Most of all, the education I leave you with is life changing in itself.  I have over 17 years experience in the fitness industry, and I believe whole-heartedly that this way of life "changed" my life. I eagerly await for you to experience what Core954 has to offer – you will be pleasantly surprised. The Lagree method is truly magical.
Fitness Background:
I trained in Martial Arts for 10 years and earned a Black Belt in Kempo Karate. I'm also a devoted Yoga practitioner, a certified Yoga instructor, and a massage therapist.
Music:
Dance, Electronic, and Hip Hop – pretty much anything that makes me wanna shake my booty!
Favorite Exercise
Plank to Pike – love working the core and upper body together!
Motivational Quote:
"If you can dream it, you can do it."
Walt Disney
Favorite Hobbies:
Traveling, dancing, mountain biking, snowboarding, and shell hunting on the beach.
Why I Love the Lagree Method:
I loved it since the first time I tried it! The Lagree method is so effective in building strength and muscles without putting extra strain on my joints. I've had knee issues for over 20 years and this is the first workout I have done that has left my knees pain free and saw incredible results after just 2 weeks!
Fitness Background:
I grew up as a dancer and later found myself immersed in both the Classical Pilates method and Yoga as a way to condition my body and calm my mind. I completed my 200 hour Ashtanga Yoga training back in 2013 and have also since completed my 600 hour Advanced Pilates certification as well as my Postpartum Corrective Exercise certification. After having my first son I discovered the Lagree Method and was blown away by the profound impact it made on my body composition in such a short period of time. I instantly found the balance I had been looking for. I completed my Lagree Certification in 2015 and have been committed to teaching this method since! I love integrating all of my training into a functional, supportive, yet challenging class!
Music:
I love all types, from hip hop to ambient instrumental to funk. Anything I can catch rhythm with and makes me feel alive!
Favorite Exercise
I love the extension and lift I can find in Plank to Pike and the form and function of Runners Lunge. I also love using the straps for a good stretch afterward.
Motivational Quote:
From Nemo, silly but effective… "Just keep swimming…!"
Favorite Hobbies:
I love to create! Art with my kids, or delicious treats in the kitchen.
Before my second baby I worked full time as Chef. Cooking is definitely one of my favorite ways to connect, and come back to center.
Living in south Florida, I also love to take advantage of our beautiful beaches.
Why I Love the Lagree Method:
The method has offered my body a much needed balance of strength and stability that I was once lacking. The intensity of the workout helps my mind to find a sense of focus and determination as well! Superficially, It has improved my cardiovascular endurance and overall muscle composition and by teaching it has allowed me to impact and connect with so many wonderful people!
Natalie's passion for health and fitness started at a young age as a dancer. She continued dancing through high school and college and as a 4 year NFL Cheerleader, dancer and choreographer.
Natalie is a certified barre instructor and teacher trainer, yoga teacher (RYT-200), certified prenatal yoga teacher (RPRT-85) and Classical Pilates Education certified Pilates instructor (500 hour). She is passionate about challenging her clients in their workouts and helping them to meet their personal fitness goals.
Fitness is Sharon's passion—and her life. She started at an early age, participating in gymnastics, cheerleading, track, volleyball, tennis, swimming, and triathlons. When she's not inspiring people in the studio, she's producing national TV commercials as an independent motion picture professional. As an instructor, Sharon wants her riders to feel empowered, strong, healthy, and happy! She hopes to create an experience that shows them just how strong they can become, that they are part of the community, and that they belong somewhere in their fitness journey. A mile is a mile, fast or slow!
Fitness Background:
AntiGravityFitness CT
CPT
Lead CycleStar @ CycleBar Fort Lauderdale
Favorite Music:
Anything that makes me want to move my body.
"Baby, I was born this way" – Lady Gaga
Favorite Quote:
Her walk is like a shot of Whisky. Neat and strong and full of purpose. And so many underestimate her punch. – JmStorm
A little about me:
Lead CycleStar @cyclebar_fortlauderdale
lululemon ambassador @lululemon
Independent Motion Picture Film Production
AntiGravityFitness
#team38 Ambassador @carbon38 SHARONREIA20
Contributing writer @ Think Magazine
Isabel she is our Mover & Shaker… Isabel is a Calming Zenly woman that loves empowering women inside and out.
Isabel has been in the Health, wellness, & fitness industry over 20years; with a background in CardioVascular medicine.
She's been teaching Lagree over 5years & fell in love with the megaformer & the method,
Lagree Certified
NASM Personal Trainer Certified
Group Fitness Instructor Certified
TRX certified
Aqua, kickboxing, boot camp, & body sculpting experience.
Dancing and music are one of her passions in life.
She worked for Nike HipHop from 2003-2005
She will be bringing Core954 a
Bellydance Fitness Fusión class that will get you moving & shaking with a little burn of course!
She started belly dancing 18years ahí and has performed w troupes and taught classes over the years.
Come meet out Calming Zenly Woman that is a Breath of Fresh energy that is peacefully powerful!
Jenna was inspired at a young age through ballet and movement and at 16 she took her first Pilates class. She recognized right away the connection between the body and mind. Through self discipline and self study she dedicated her life to fitness. She became certified in Power Pilates , Xtend Barre and 350 hr Yoga teacher trainings. Before getting pregnant with her first child She was luckily introduced to the Megareformer at Core954. It became her second home. Her classes are inspiring and challenging with upbeat music. She can't wait to share her knowledge and passion she has for Lagree Fitness!